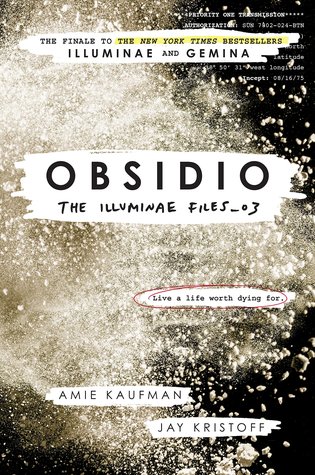 Obsidio (The Illuminae Files _03)
by Amie Kaufman and Jay Kristoff
Summary: Kady, Ezra, Hanna, and Nik narrowly escaped with their lives from the attacks on Heimdall station and now find themselves crammed with 2,000 refugees on the container ship, Mao. With the jump station destroyed and their resources scarce, the only option is to return to Kerenza—but who knows what they'll find seven months after the invasion?
Meanwhile, Kady's cousin, Asha, survived the initial BeiTech assault and has joined Kerenza's ragtag underground resistance. When Rhys—an old flame from Asha's past—reappears on Kerenza, the two find themselves on opposite sides of the conflict.
With time running out, a final battle will be waged on land and in space, heroes will fall, and hearts will be broken.
Source: I purchased a hardcover
Review:
I enjoyed the finale of Obsidio and I was happy to get the closure I needed for the whole story. I only gave Gemina 3 stars because it was so disappointing in comparison to Illuminae and I don't think Obsidio was much better, but I gave it an extra star because it was interesting and it did conclude the story and involve the original characters and AIDAN a lot more.
Illuminae was the best book in the trilogy by a long shot, but if this is read as one long story with different POVs, then it's still an amazing scifi trilogy that is worth reading. I think other people might like Gemina or Obsidio as much as or more than Illuminae, but the horror lover in me just really enjoyed the plot of Illuminae more than the traditional scifi adventure plot of the rest. The storytelling is unique for this entire trilogy and I highly recommend checking this series out and diving into a story that is told in so many ways. It was creative and full of so much adventure, love, action, horror, and mystery.
(2018 POPSUGAR Reading Challenge for Book Set on a Different Planet)