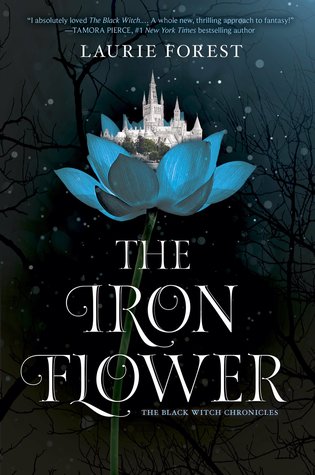 The Iron Flower (The Black Witch Chronicles #2)
by Laurie Forest
Summary: Elloren Gardner and her friends were only seeking to right a few wrongs, but their actions have propelled them straight into the ranks of the realm-wide Resistance against Gardnerian encroachment. As the Resistance struggles against the harsh rulings of High Priest Marcus Vogel and the Mage Council, Elloren begins to realize that none of the people she cares about will be safe if Gardneria seizes control of the Western Realm.
With tensions heating up in Verpacia, more and more Gardnerian soldiers continue to descend upon the university…led by none other than Lukas Grey, now commander of the newly rebuilt Fourth Division base. Though Elloren tries to keep him at arm's length, Lukas is determined to wandfast to her, convinced that she has inherited her grandmother's magic—the prophesied power of the Black Witch. As his very nearness seems to awaken a darkness inside her, Elloren finds it more and more difficult to believe that she's truly powerless, as her uncle always claimed.
Caught between her growing feelings for the rebellious Yvan Guriel and the seductive power offered by Lukas Grey, Elloren must find a way to stay true to what she knows is right and protect everyone she loves…even if that means protecting them from herself.
Source: I preordered a hardcover
Review:
I really liked the first book, The Black Witch, and was eager to read the sequel. It was awesome and very well done. Elloren was a much more likable character than she was in book 1 and she very publicly stood for what she believed in at the moments where it truly mattered. It took her forever to get there, but it was worth the wait, I think.
The story was full of action, politics that got even scarier than they were in the first book, magic, choices, and even some romance.
I have to say, the ending left me a little sad that I have to wait another year for the next book because it dropped some pretty hefty revelations, but I enjoyed the book quite a bit. I was also glad the naive but-I-don't-have-any-magic thing finally came to an end as she DOES get to discover she has magical abilities in this installment! (Finally!)
I know I rated book 1 5 stars, but I did that mainly because I liked the book and felt that it was getting some pretty unfair 1 star reviews because people didn't open their minds to the possibility that the author was trying to make a VALID POINT about prejudice and was building the blocks. I highly recommend this series so far for that point because the author does it well and it's shocking. I added the star in order to help contribute to offsetting the overall average on Goodreads. The readers who have enjoyed the series or at least given it a chance have been pretty kind to the reviews for the 2nd book so I'm only rating it 4 stars because that's closer to how I feel. It's not without flaws and the writing isn't super spectacular or anything, so it's 4 star YA.